Whether you're a weekend gardener, or a professional, the job is always easier when you have the right tool. This is where you'll find all my favorites, my 'must haves', my ' don't leave home without them's'. Hawk's Nest Nursery evolved over the years according to what new tools or gadgets we had tried out, and whether we could procure them for our customers.

Now as a Garden Designer and consultant these tools mentioned on this page are TOPS on my list.

A Felco pruner will truly be the only pruner you will ever need or buy. They last forever. They make the Swiss Army Knife - need I say more? I replace the cutting blade every year, but the average gardener could go two to three years. Don't bother trying to sharpen them yourself, it is never satisfactory, and for $11 you can pop in a new blade. Here are the pruners I recommend and why:
FELCO FOLDING SAW - Another item in the Felco line that I love is their folding saw. You can saw some pretty big branches with this (up to 4 inches), and it folds neatly and safely away. Overall length 14", blade length 6".

MY TOOL BELT - I started using this 'tool belt' a couple of years ago when I began to do more garden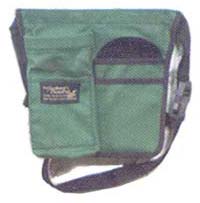 installations and maintenance contracts. Until then most of my garden work was on my property and I use an old golf cart to get around and it has everything on it. I always kept my Felcos in my back jeans pocket, but it ends up wearing a hole and falling out!
I've given one of these to all my workers. Aprons don't work because they're in front of you, holsters only hold your pruners. This is made to hold a cell phone, but I fill mine up with tools. It stays put, and I can shove it around back when I need it out of the way.
Ask K.C. a gardening question at the
Gardening Matters Bulletin Board

Home | Bulletin Board | Cover Story | Water Lines | Bird Gardens | Perennials
Garden Design Services | Tools | Timely Tips
K.C. Fahy-Harvick
240 Sylvan Road
Rochester, NY 14618
kcfh60@gmail.com
Designed & Maintained by ScenicView Web Company ©2022